Drum Camp
CHECK OUT WHAT LAB CAMP LOOKS LIKE! :
LAB | Music Education proudly presents:

'This will be one of the best drum camps in the planet!'
Gergo Borlai
'If you want to improve as a drummer, this is the place to be!'
Ralf Gottlieb
'This drum camp is really special!'
Virgil Donati
'Nobody will regret joining this camp!'
George Kollias

Powered by:

5 days of extreme drums training with some of the world's top drummers in an amazing location!
✓ You will attend 20+ hours of top quality seminars
✓ You will jam with other drummers & professional musicians all night long
✓ You will enjoy the Ranch living in the nature trying out exciting sports (horse riding, Archery, Swimming, etc)
✓ And last but not least, you will spend plenty of time with your idols and other drummers from all over the world!
TEACHERS:
The complete line up will be announced soon...
(3 more drummers!)
(Leprous)
(Nile)
Previous lab camp's instructors include:
Eric Moore, Keith Carlock, Virgil Donati, Chris Coleman, Horacio 'El negro' Hernandez, Stanton Moore, Richard Spaven, Mike Johnston, Anika Nilles, Gergo Borlai, Mike Dolbear, Derrek Roddy, Thomas Pridgen and others...
LOCATION:
Experience a legendary place!
Welcome to The Ranch, Greece's first destination for events and conferences and the finest summer camp in the country. Nestled on 400 acres in the Peloponnese in mainland Greece, we combine stunning natural beauty with top modern facilities in our Western-themed accommodations.
Our goal at The Ranch is to offer you action, sports and entertainment. Play, learn and grow while participating in one of our many activities or design your own adventure getaway. Our creative experienced staff can make sure that you will have the time of your life in an environment combining both the ancient and the new.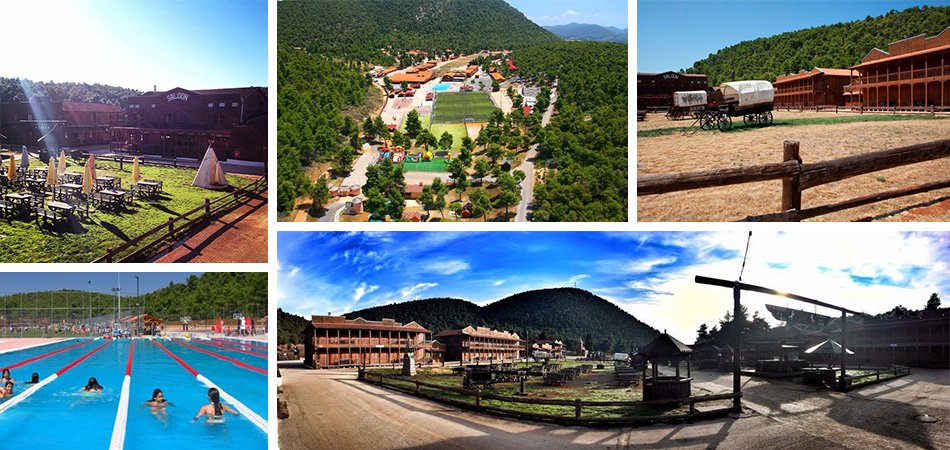 PRICING: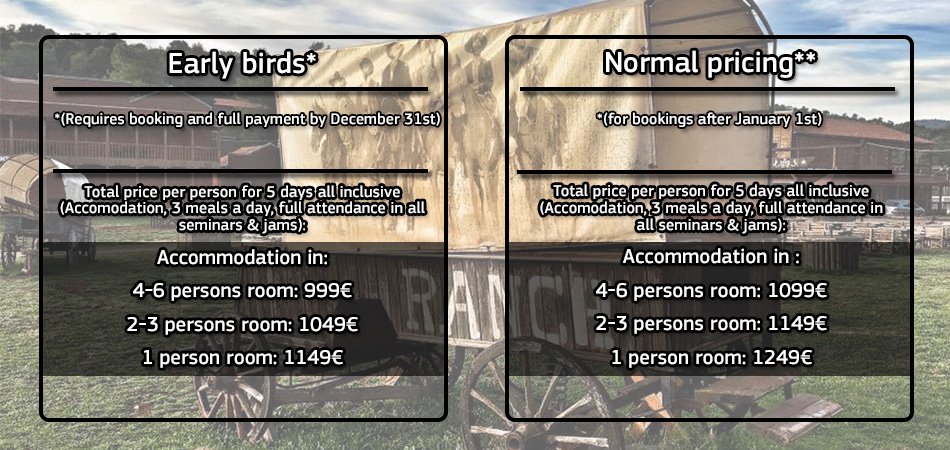 What's included?
✓ More than 20 hours of top quality seminars
✓ Unlimited participation at the night jams along with professional musicians
✓ 3 meals a day (Breakfast – lunch – dinner)
✓ Bar service available but not included in the price
✓ Accomodation in wooden rooms depending on the reservation type (single, double/triple, sextuple)
✓ Transportation by Bus from/to Athens city center to/from the Camp (aprox.1 1/2 hours)
✓ One trip to the beach
✓ The 'LAB Drum Camp Book' containing all teachers' curriculum
✓ LAB Camp T-shirt
✓ Certificate of attendance signed by artists
✓ Unlimited use of all Ranch facilities, activities and sports center
✓ Use of DW Go-anywhere Practice kit, stool and music stand
*We would like to inform you that a fully equipped medical office is available for all the visitors of the Ranch. The Ranch is located in a private, 24h secured area, with every security certification. Strict hygiene rules are applied.
COVID Documentation Requirements:
Health measures will be apllied in accordance to Greece's and EU's health security framework.
Please note that you might be asked to get tested before entering the camp and/or show a vaccination/recovery certificate.
SCHEDULE: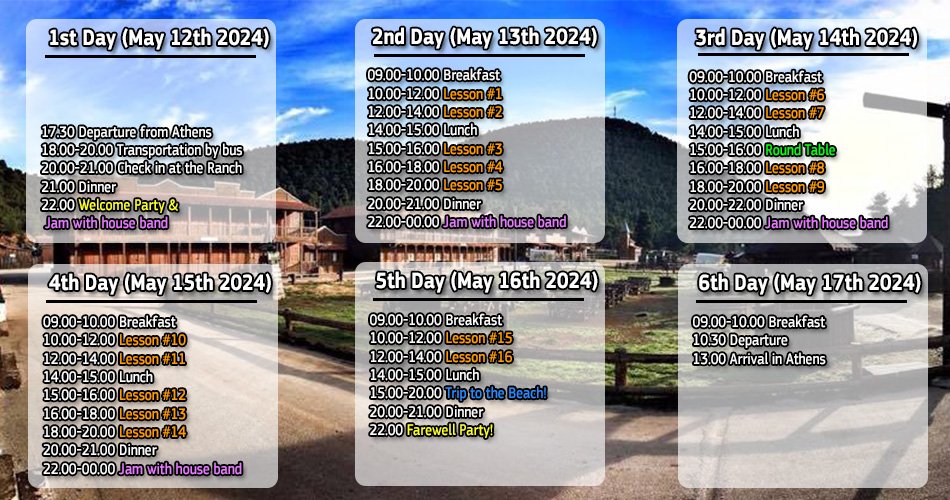 *Please note that the schedule is subject to change
FAQ:
A DW Go Anywhere™ 5-Piece Practice Set, a drum throne and a music stand will be available for each student free of charge!
You should only bring your drumsticks and your bass drum pedal.
· What about language?
Lessons will be held in English.
· How do I get there?
Closest airport is Athens International Airport (ATH). It is 40 kilometers away from Athens city center which is where the bus to the Ranch will be departing from. Athens city center is reached easily in about 45 minutes either by getting on the metro or taking a bus. A metro round ticket currently costs 18€ while a bus round ticket costs 12€.
Transportation by bus from Athens to the Ranch (100 km) and back is included in the price. The bus will depart from Athens at 17.30 on the first day of the event and will depart from the Ranch to Athens at 10.30 on the last day the event is held.
We strongly advice that you arrive in Athens no later than the morning of the first day and arrange your departure for not earlier than 6pm of the last day.
· What about my drumming level?
Students of the LAB Camp will be divided into 4 groups. All will get the same amount of seminars from the same teachers.
· What about my age?
People of all ages are welcome! However minors must provide a signed minor consent form or be accompanied by a legal guardian. For your convenience we offer a special visitor's package. Check above.
· Can I come with a friend?
Yes of course you can! Your friend can also get the special visitor's package which includes everything but the lessons. Non drummers will also have a great time since you can never get bored at the Ranch!
· Can I record the lessons?
This depends on each teacher. If you wish to record part of a lesson for personal use, please remember to ask the teacher in advance. If he permits the recording, then we also do.
· What will the COVID Documentation Requirements be?
Health measures will be apllied in accordance to Greece's and EU's health security framework.
Please note that you might be asked to get tested before entering the camp and/or show a vaccination/recovery certificate.
Secure your spot now!
All Inclusive Ticket (Early bird!)
Special Visitor's package
Total price per person for 5 days all inclusive WITHOUT seminar attendance (Accomodation, 3 meals a day):